Out of the Blue Yacht Charters
What we do
Welcome to Out of the Blue Yacht Charters. We devote our time and energy to finding and working with clients such as yourself, who have a love for water, adventure, travel, family fun and relaxation.  Afterall Travel is one of the things you can do that makes your spirit richer.  We attend the industry's best yacht shows and research the best crews, yachts, and cruising areas.  We have an international database to find you the perfect yacht that meets your criteria. We make sure all details are discussed with you and that you are fully prepared for your yacht charter.  We will be available any time and be your best resource and answer any questions concerning your charter in paradise.  Our goal: is to help provide you with a charter experience beyond your imagination!
Inquiry Form:  This is where you would like to do a charter and would like us to find you a boat meeting your criteria. Example: number of people, cruising grounds, type of boat, dates you would like to charter etc.  I will search our database and find you the perfect match!
Search by Yacht Name:  (First 4 characters of name) This is where you know the name of the boat you are interested in and would like more information about that particular boat. Example: availability, rates etc.
Search Engine: This is where you can search for boats in our international database. Example: if you are shopping for a yacht charter and you are just not sure what kind of boat you would like to charter.  We have thousands of yachts to choose from.  Make sure you either put in the yacht name "OR" the location, dates, number of guests, yacht type and budget range.
Activities on Charter
Fun on the Water
A Charter yacht can be a floating resort. You can find a wide range of activities and entertainment options depending on the size and type of yacht you charter. If you're looking for a change of scenery, almost every day you have the chance to go ashore on a different island.
Travel with us
Destinations
Benefits
What you get
TV and Music

depends on the yacht

Bed Types

Twin, Double, Queen, King

Air conditioning

depends on the yacht

Scuba Diving

depends on the yacht
Testimonials
What our clients say
"3 SISTERS"
May 24-28, 2023
Dear Gordon and Caitlin, Where to begin? You two lovely humans helped to create some amazing core memories for our family. We will be forever grateful for the seamless way in which we slipped into the world of 3 SISTERS. Johnny, Teagan, Claire and I will Cherish the Magical experience of sailing, exploring, snorkeling, laughing, eating and drinking and then laughing some more. Kudos to the expert guidance, exceptional meals, fun and friendship- Gordon + Caitlin you are both truly talented in every way. We had much to celebrate and can't imagine a better way to toast our new chapters- we hope our stories reconnect again someday! XO Love and hugs Johnny, sara, Teagan + Claire
What an adventure! This was our first time chartering a catamaran and we were NOT disappointed with Catamaran "NOWHERE"! The yacht was incredible and felt very luxurious. I can't say enough about our captain and chef. They made certain we had everything we needed to maximize our fun. We were so sad when we had to depart, we know now that we want to spend more time on a catamaran !  We highly recommend sailing in Belize with Captain Christian and Chef Christy. We made memories we will not soon forget! "Out of the Blue Yacht Charters" Thank you again for helping us plan this magical experience!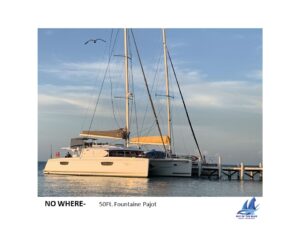 Lora & Michael
Our charter aboard TWIN FLAME was fantastic. Our charter broker "Renee" was the best! She was so very helpful and professional! She will be our go to on our next charter vacation!! Thank you Out of the Blue Yacht Charters!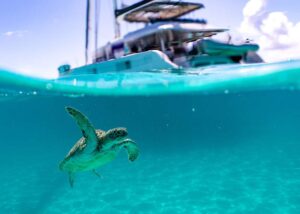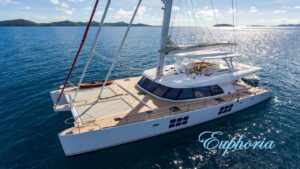 Cory and Emily were awesome! We travel a lot and meet lots of great people and they are definitely our favorites and very comfortable to be with for 7 nights, they were always friendly and accommodating. The attention to detail made us always feel safe and comfortable for the whole time. They really cared about our vacation and met our personal needs. It was the cleanest yacht I have ever been on, their vested ownership as a crew was just amazing and I told them that several times throughout the trip. The cabins were very clean and comfortable. We had more than enough water toys, games and activities during the charter. The food exceeded our expectations and was actually amazing we give them 10 stars.  Our favorite meal was the seafood wrap which was amazing. I would definitely rebook EUPHORIA with Cory and Emily again. They made this trip unbelievable! Our Charter Broker, Lesa Renee Sawyer from Out of the Blue Yacht Charters was first class and straight forward with no pressure and we were updated the whole time with any issues and updates.  All information was provided in a timely and adequate manner. I will use this professional charter brokerage again!
All of the food was great aboard AUGUST MAVERICK We really enjoyed the salmon and the crew always showed attention to detail and were professional, accommodating and informative to us and our children. The water toys and food completely met our expectations. We would charter again through Out of the Blue Yacht Charters.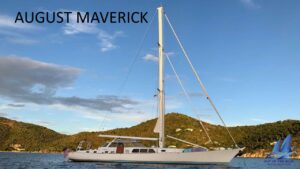 The crew Jim and Sherri were beyond amazing they were always friendly and accommodating they showed great attention to detail, The amount of knowledge of the area, water life, history of each island and the cooking was amazing. The food was gourmet restaurant grade with presentation and taste. We will book again with Out of the Blue Yacht Charters.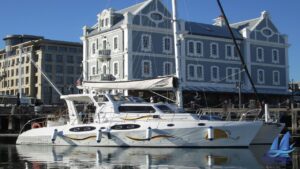 Wayne and Lou were so much fun! We had the best vacation aboard catamaran "MANNA" and our worries about being on a boat for a week were gone the second we got there. Trip of a lifetime! Highly recommend! The crew was well prepared and accommodating. They were very friendly and we felt very comfortable right away no detail was overlooked. We even had different place settings for dinner every night. The crews Sense of humor and the ability to see when to hang out with us and when not to was spot on. We had lots of fun. Everything was assessable and in great shape. The food was incredible. I was continuously amazed at the meals that were provided and the quality. It is such a small kitchen but you would think she was cooking in a gourmet kitchen. All the food was amazing and preparation and presentation was perfect. Our favorite meal was Steak and Shrimp but we are from Nebraska!! Oh, and the Charcuterie Board when we got on board first day with a cocktail was awesome!! We would book again with "Out of the Blue Yacht Charters"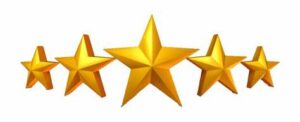 5 Star Experience
I am still pinching myself that we really did this! What an incredible experience, with first class everything.
"Out of the Blue Yacht Charters"
found us the perfect catamaran charter aboard "HERO'S JOURNEY" with the absolute most delightful crew. Captain Mike and Chef Julie have been married 38 years and they work beautifully together, complimenting each other's strengths. Their knowledge of the area and suggested adventures were exactly the guidance we needed when going ashore or snorkeling. Being discriminating foodies, Chef Julie did not disappoint! This truly was a trip of a lifetime and I want to go back!!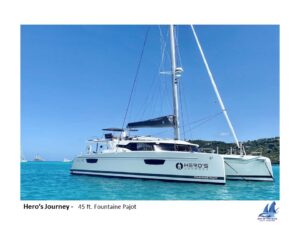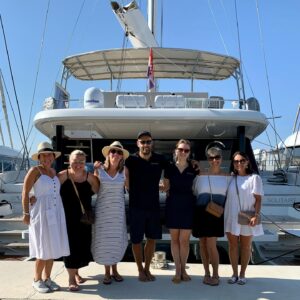 Renee helped us to plan the vacation of a lifetime! She replied to messages immediately, answered all of our questions promptly and ensured that we had a wonderful vacation. This trip aboard "SOLITAIRE" was incredible and this was the second time that I have worked with her and I highly recommend "Out of the Blue Yacht Charters". Everything was seamless- no problems at all. [gallery ids="10488,10486,10485,10484,10483,10482,10481,10480,10491"]
Yacht Blog
Recent blog posts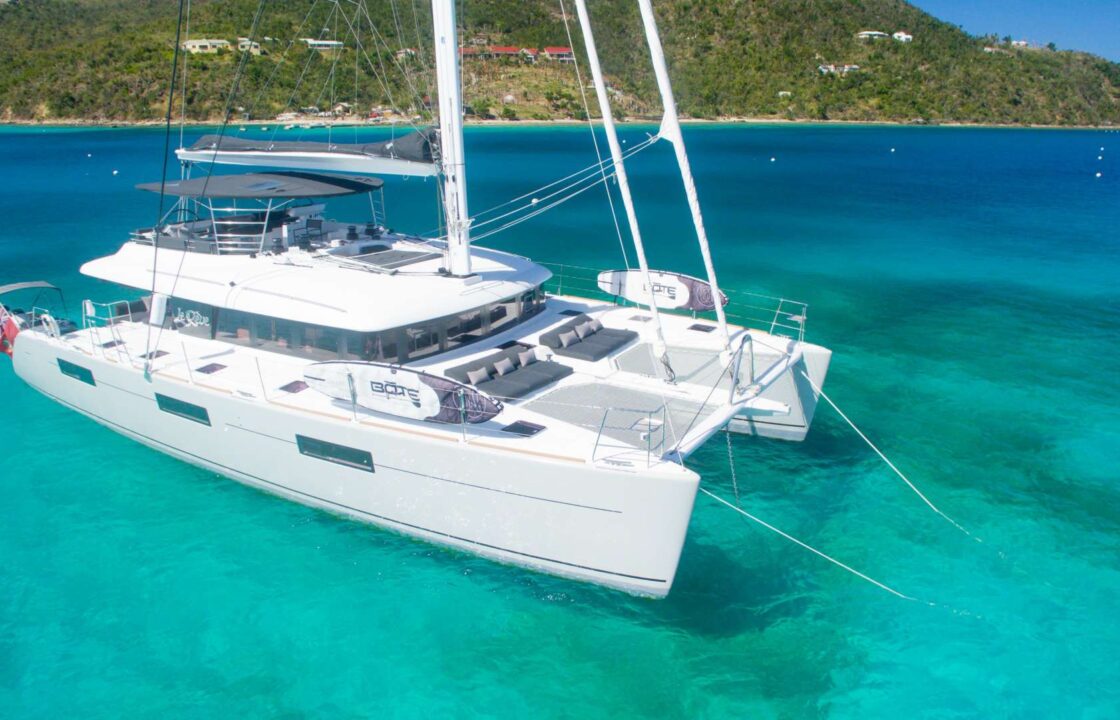 Quick Contact
Get in touch quickly