Ahoy from the crew of Yacht Le Rêve!  We hope this note finds you doing well and enjoying a great Summer!  Now that our Caribbean charter season has wrapped up and we are in New England preparing to start our summer charters, we thought we'd send a little note to keep you apprised of what's going on aboard Le Rêve.
This season, book the yacht whose chef stars in her very own cooking show!  Yes, that's right, Chef Sandy has just finished shooting Season 2 of her hit cooking show "Cooking with Yacht Chef Sandy" on location aboard Le Rêve here in the Virgin Islands!  Season 1 kicked off with great success and Season 2 has risen in the ratings to be one of the top 5 shows on the network!
Our guests are getting a kick out of watching the show both before they board the yacht and after they go home to see just how she whips up her amazing dishes in the galley!  The show airs on the EatThis.tv app on Roku platform and is also available for streaming on YouTube.
Also along showbiz lines, Le Rêve herself starred in Season 3 of the hit Netflix series Outer Banks!  Check it out when you have a minute. We have continued to make upgrades to the yacht including a super fun new e-foil, a new wing board, new carpet throughout, new sail covers, a new 1700-Watt Solar installation as well as a brand new custom soft top on the flybridge, and a new Lithium battery bank providing 2400-amp hours of power to the yacht.  We upgraded our on-board internet to Star link Maritime internet service which provides significantly faster and more reliable internet to the yacht.  We have also made important improvements to our infrastructure including brand new anchor and chain as well as replacing all of our running rigging. We even replaced one of our generators to ensure smooth operations this charter season with a brand-new Onan Generator!
Our menu is always evolving and one of the fun things we've been doing in the BVI is having fresh lobster delivered right to the yacht in North Sound.  Our guests delight in seeing their dinner delivered alive and kicking right to the transom, and our fishermen Belonger friends get a kick out of watching their reactions.  Please keep in mind we also have an active summer charter season in New England in case you have guests looking for something a little bit different, and in the Caribbean season we offer charters in St Martin and St Barth's as well.
Our guest comments continue to be outstanding, please take a look on Central Yacht Agent to see them, COMMENTS and in case you haven't seen it yet, here is a link to our video walkthrough of the yacht:    VIDEO
We very much look forward to seeing you aboard Le Rêve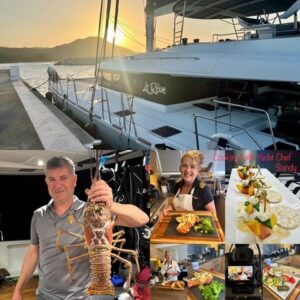 Captain Dirk and Chef/Captain Sandy
You can book Le Rêve with Out of the Blue Yacht charters
Direct- 757-759-8960
info@outoftheblueyachtcharters.com
News Letter & Specials
SUBSCRIBE